When we are able to, we like trying to give back to our great town, El Segundo.   There are not many places in town where historical artifacts can be seen (other than our shop, Studio Antiques.)  The one place where townies can visit and/or make donations to is the Friends of the Library.  One of this organization's objectives is to collect and maintain historical materials about our city.  You may have a similar organization where you reside.
A week ago, one of the members of the Friends of the Library brought an item that had been recently donated to them without any attribution.  It was simply left at the desk with no identification.  They couldn't really display it without tying it back to "The Gundo". I'm talking about a WWII WAC (WAAC) uniform.  It is entirely in tact and includes the jacket, skirt, shirt, gloves, scarf and tie.
I got really excited because any militaria, especially from World War II, is popular right now.  And this is a WOMAN'S uniform.  It must be worth a few hundred dollars (my guess).  We will list the item for sale on eBay, deduct the actual expenses, and donate 100% of the profit to the Friends of the Library.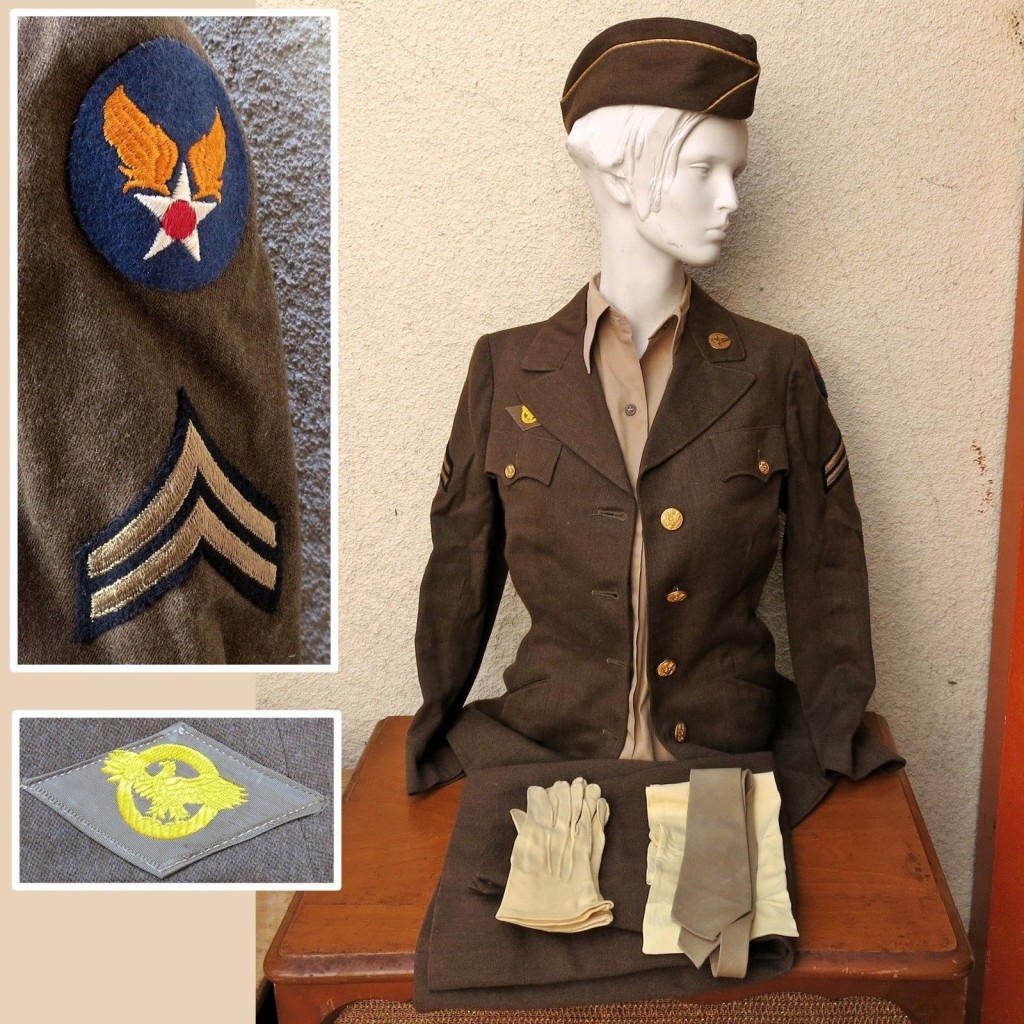 If you are anything like me, I have (obviously) heard of the WAACs, but really don't know much about the organization.  WAAC stands for Women's Army Auxiliary Corp.
World War II began (according to most) on January 1, 1939, when Germany invaded Poland.  It was at that time that Britain and France declared war on Hitler's Nazi State.  The WAAC was established in May of 1942.  The first contingent of 800 women began their basic training at the Fort Des Moines Provisional Army Officer Training School.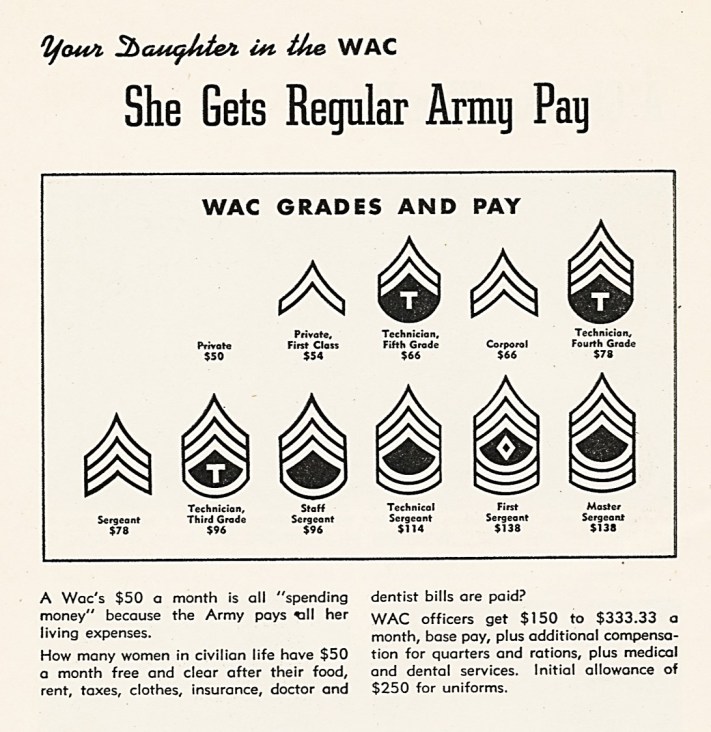 The WAAC were the first women other than nurses to serve with the U.S. Army.  Although originally an auxiliary to the Army, in 1943 the name was changed to WAC (Women's Army Corp) and became an official part of the U.S. Armed Forces, Army.  WAVES were the women's arm of the Navy.
The responsibility of the WAC was "Your Job: To Replace Men. Be Ready To Take Over." While leadership in the Army was conservative, and public opinion in general was opposed to women in uniform, there was still a shortage of men that needed to be addressed with women fulfilling military roles.
Ineffective publicity and unattractive uniforms set back recruiting efforts.  In fact, there was a period of time where women were almost slandered for joining the WAC s.  Many were being called prostitutes and lesbians.   Men were threatened that if women were taking some of the less risky roles that they would be forced into more hazardous duty.
The uniform was also widely copied.  Women factory workers often wore utilitarian uniforms in khaki colors.  The WAC uniform was copied and sold to supporters like the Junior WAC.  Others would wear copies of the uniform in order to impersonate military personnel or to sneak onto the base in order to meet servicemen.
The total number of WAAC WAC recruits was 150,000.  That is minor in comparison to the number of men serving in WWII, 16 million.  So an original WAAC WAC uniform is fairly rare.  Our WAC was a Corporal as identified by the double chevron badge.  The round badge with the wings represents the U.S. Army Airforce insignia.  According to the image above, she made $66 a month.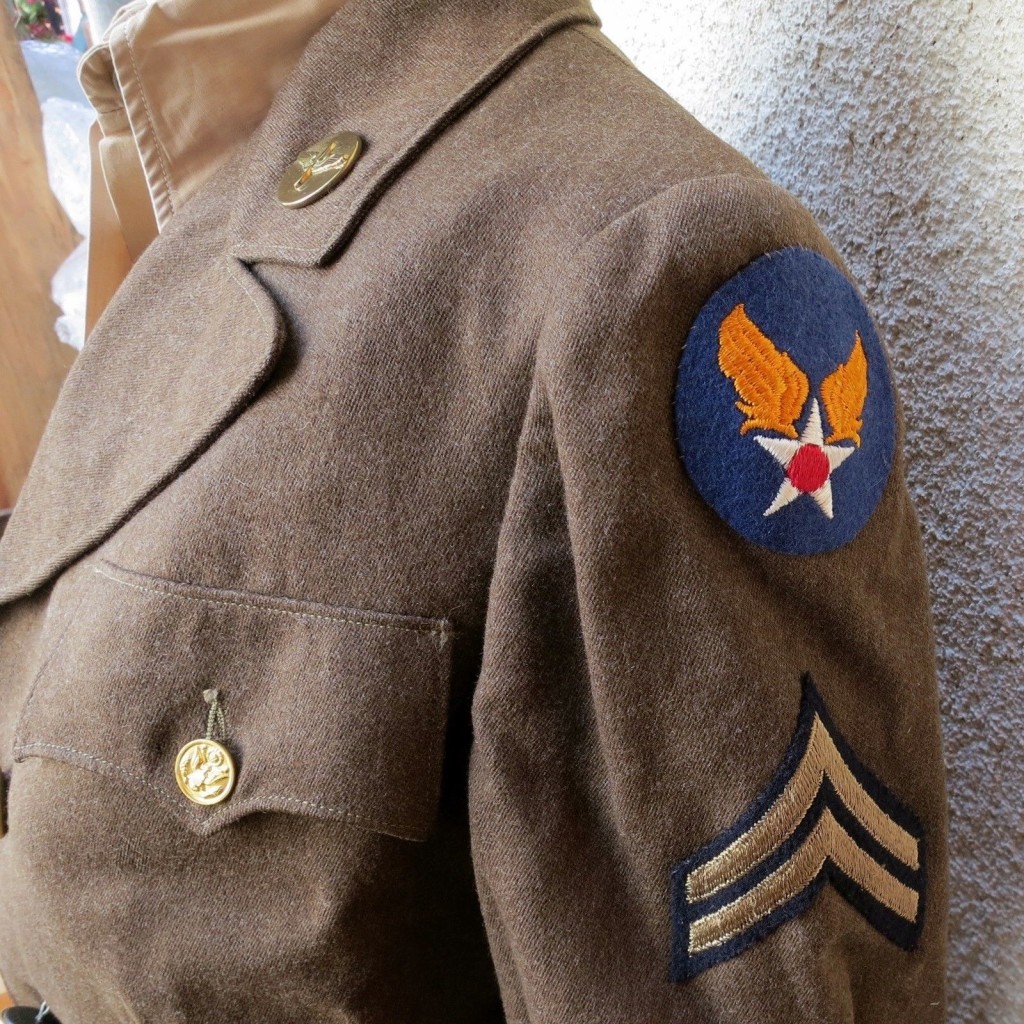 In today's world there are many people not just interested in the historical value of a WAAC WAC uniform, there are many people who participate in reenactments as well as social groups interested in 20th century America.
This uniform will eventually sell to one of them.  Check it out here and know that your purchase price will go to help maintain the history of a small California town.
Tags: militaria, WAAC, WAAC uniform, WAC, WAC uniform, women military, world war II, WWII