We Are A Registered eBay Drop Off Location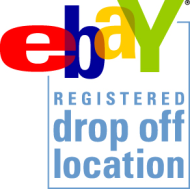 We are a proud registered eBay Drop-Off location. Having been a selling member of eBay since 1998, we offer the ability for our neighbors and customers to let us sell their items on eBay for them! We specialize in all antiques & collectibles and have sold all kinds of items big and small. We can come to you for the larger items (call ahead for more information), but welcome you to come by our location as well. Let us take the hassle out of selling your things on eBay!
Click here to visit our eBay store
How Our eBay Drop Off Service Works:
Just bring your items by our shop (please call ahead to make sure that we are available), or email us pictures of your item and we can give you a very quick assessment based on comparables which have previously sold on eBay.
With some preliminary research, we will give you a recommendation for the auction starting price(s). We will also decide how the items should be grouped and listed. (If there are multiples or a large group of items)
You fill out the appropriate paper work and leave the rest to us!
We will:
Conduct research, photograph and write an full, detailed and accurate description of your item.
List your item on eBay in a 10 day Auction Format for better reach.
Promptly answer all customer inquiries in reference to your listed item.
Collect payment, and expertly pack and ship your item to the buyer.
Then, all you need do is come by the shop and pick up your check! (Or we can also mail it to you!)
If your item does not sell in auction the first time, we will re-list it in auction format a second time. If it does not sell the second time, we will place it in our eBay store at a fixed price AND list it on studioantiques.com! We will keep your item will be listed on both, indefinitely, until it sells!
Fees and Terms:
Each eBay listing requires a non-refundable $25 upfront fee. This fee is to cover initial eBay selling costs, including but not, limited to, eBay fees and fees associated with research and development of the listing.
When your item sells, we will deduct eBay and PayPal fees from the selling price. These fees together usually range between 10% and 15% of the final sale price. However, your $25 upfront fee will be applied towards these eBay and PayPal fees. (We will only subtract eBay and PayPal fees that exceed $25.) We then pay you your percentage from the net amount.
If an item sells for $399.99, or less, you will receive 50% of the net price, after fees are deducted. If an item sells for $400.00, or more, you will receive 65% of the net price, after fees are deducted.
A single eBay listing must have a minimum starting price of $100.
We must have your item for sale for a minimum of 6 weeks, after which, if your item(s) does not sell, you may have the item back. However, you can also keep the item with us indefinitely, until it sells, for no extra charge.
We can arrange pick up of larger items. Fees vary depending on the item and location. Fees for this service must be paid for upfront, in addition to the $25 fee.