Welcome to Studio Antiques!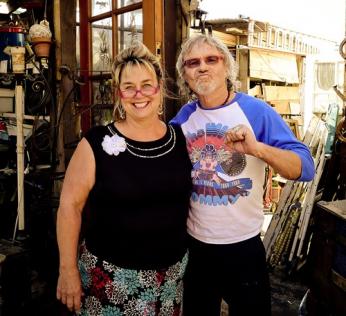 Our names are Laurence and Sally Martin. You might have seen us on the Travel Channel show, "Baggage Battles" as well the A&E show "Storage Wars"!
Here at Studio Antiques, we offer the widest variety of Antiques, Collectibles, Furniture, China and Glass in Southern California. We have been online for over 14 years and have sold treasures to every part of the world!
We are well known to both the trade and public as a perfect place to find that unique piece of furniture or decorative item that allows you to express your personality in your home.
We carry every style imaginable from Victorian, Arts & Crafts, Art Deco to Mid Century Modern. In addition to our extensive furniture collection, you will find everything from ironwork, stained glass, artwork, mirrors & more!
Our shop is nestled away in the quaint city of El Segundo, just south of the Los Angeles International Airport, in Los Angeles, California. We have been in the same California location for 25 years.
Cant find what you are looking for? Our online inventory only reflects the tip of the iceberg! Contact us and give us a description of your desired treasure, we just might have it!
Our show, "Baggage Battles" airs on the Travel Channel in the United States and on a variety of Discovery networks on an international basis. You can watch when you are in England, Australia, Netherlands, Germany, France, South Africa, South America, Canada, Singapore and many more countries! We go WITH you!
Here is the preview for  "Baggage Battles" – on the Travel Channel!

Our Appearances on "Storage Wars"
We have made many appearances on the hit reality show, "Storage Wars" on A&E, as we help Barry, Darrell, Brandi and Jarrod find the value of their Antique and Collectible Items!
Check out all of our past appearances in the video playlist below:
Our first TV show, "The Old Stuff Show"
"The Old Stuff Show" was a show we produced for our local El Segundo, CA Cable Station back in 2004. Check out the first two episodes below as we help our neighbors determine how much their old stuff is worth!
Episode 1:

Episode 2: