Description
We are pleased to present this antique Thorens Music Box for your consideration.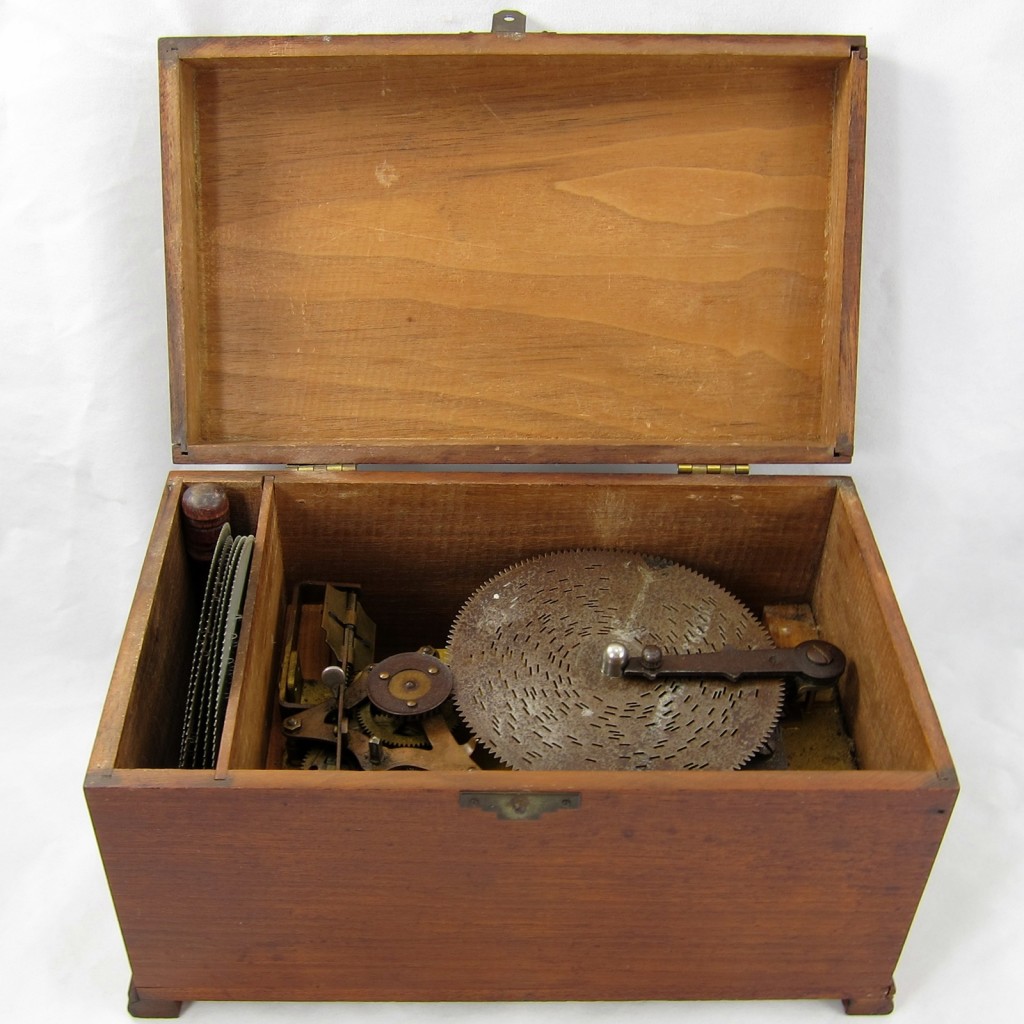 One of the earlier models with an open movement, we date this one to circa 1915. It plays 4-1/2 inch metal disks, and six (6) are included, with the following titles:
Blue Danube (#19)

Jingle Bells (#1402)

Lhr Kinderlein Kommet (#61 ?)

Alle Jahre Wieder (#1154)

Faust (#403)

[difficult to read] (#59 ?)
The movement is believed to be the AD30 model, and it has a 30 tooth comb. A key for winding is included, but we do not believe it is original to the Music Box. There is also a small screwdriver with wooden handle, useful for removing the screw that holds the disk in place. The cabinet has a separate compartment which holds the extra disks, key, and tool.
The Music Box measures 5-3/4 inches high, 10 inches wide, and is 5-7/8 inches deep. It weighs 4 pounds. The movement is marked MADE IN SWITZERLAND. Although hard to see on the disks, they bear the same marking (MADE IN SWITZERLAND) in small letters.
One of the tines is broken on the comb. We removed the disk and have included a close up picture of the comb. The movement is in working order, winding and playing the disks without difficulty. There is a lever that controls the playing of the disks, but its action seems imprecise. Two small wood screws were found inside the cabinet. They appear to be replacements for one of the hinges which looks like it came loose and was remounted in holes slightly below the original holes. The cabinet shows only normal age appropriate wear and is in quite nice shape. We rate the overall condition of this piece as very good.
This is a nice example of an antique Thorens Disk Music Box. It would make a wonderful addition to any collection!